PRINCIPAL DANCER:  Emma Coles
Dance Lieutenant: Emma Harting
Squad Leader:  Cody Torrance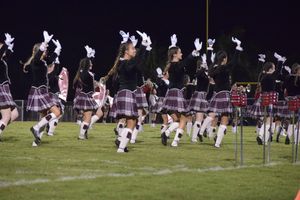 The Highland Dancers
The Kiltie Highland Dance class is a full year, 1 credit, eurhythmics class which has some special and unique differences.  The dance uniform is issued by the uniform committee.  A dancer's hair should be worn pulled back except when special rules apply to the Scottish games.  All hair accessories are to be black.  No jewelry except small stud earrings are permitted.

All Highland Dancers for the coming school year must attend the one week band camp in August.  New dancers must attend Freshman Band Camp and training classes to be set by the school. 

The Highland Dancers are proudly led by Ms. Alison Deitz.   If you have questions about how to join the Highland Dancers, please contact the Music Department. 

 
In May, 2018 Kiltie Dancers were featured on Suncoast View on ABC.   
Spring, 2016-Final Concert
Spring, 2015-Pipers and Dancers