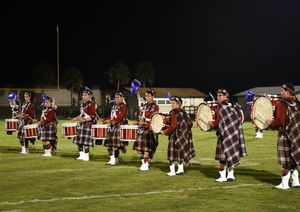 The Highlander Drum Corps
The Highlander Drum Corps received its name in the mid-1990s to highlight the Scottish heritage of both Riverview High School and the RHS Kiltie Band. Since 1999, the HDC has marched between 25 and 30 members in its ranks, generally marching 6 snares, 5 tenors (quints), 6 basses, and 10-12 cymbals. During that year, the HDC participated in its first fundraiser, the HDC Drum-a-thon, and raised $11,000 to purchase new equipment (Premier Drums, Zildjian Cymbals, harnesses, cases and cymbal bags) for the line. 
The actual Riverview High School Drumline, however, is as old as the RHS Kiltie Band itself.  It has remained a unit of the band since the organization's inaugural year of 1960.  As noted above, the HDC title came much later in the mid-1990s, and HDC gained the reputation it has now with the arrival of our Assistant Director, Chuck Evans, in 1998.  As an alumnus of Florida State University in 1995, he transformed the group from a traditional high school drumline to a well-rounded and experienced unit almost immediately. The Section Leader of the FSU Big 8 Drumline during college, he has brought over and taught numerous college-level cadences and warmups, courtesy of both Big 8 and several other drumlines and corps throughout the nation.

If you have questions about how to join the Highlander Drum Corps, please contact the Music Department. 
10/14/16:   Drum-off between RHS & Manatee High School
Drum Corp Performs at TaeKwonDo Grand Prix
On September 30, 2017, the Riverview High School Kiltie Drum Corp volunteered and performed at the 10th annual TaeKwonDo Grand Prix Event at the Bradenton Convention Center.  Pictured with our Kilties and Mrs. Andrea Nolte is Master Jin Hwan Hwang of Red Tiger Martial Arts.  Master Hwang made a donation to our Kilties as a token of his appreciation. 
Percussion Concert - May 2, 2017
Drum Corp Performances
09/16/16-Riverview Kiltie Drum Corp