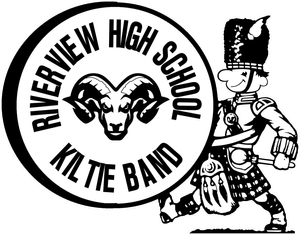 About Us
In Sarasota, Florida, Riverview High School is a four-year comprehensive public high school with a student population of over 2,500 students.  The Riverview High School Kiltie Band program consists of over 200 ladies and gentlemen from the student population; it is comprised of Symphonic Winds, Wind Ensemble, Varsity Band, Bagpipes, Color Guard, and Highland Dance.  Anyone, regardless of experience, can join the band program at Riverview.  Some of the band classes require an audition and some are open to all students. All interested students are asked to meet with one of the directors for more information and requirements.  All students enrolled in a band class are required to participate in marching band during football season for the home Varsity football games.
The Riverview High School Kiltie Band Boosters are comprised of band parents and supporters who assist with any projects and lend financial assistance to the band for co-curricular and extracurricular needs. The Boosters also work to promote social and recreational gatherings for members, their families, and friends for the cementing of good fellowship and a social cooperative spirit.

The Kilties are active community performers and consistently earn "Superior" ratings at Music Performance Assessment.  Most notably, since 1958, the RHS Kiltie Band has earned consecutive Superior ratings in the Florida Bandmasters Association District Marching MPA. 
Thank You, Trinity Construction & Design!
63 Years of STRAIGHT SUPERIOR!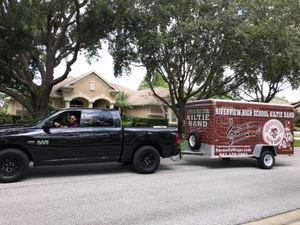 Kiltie Award Night and Senior Ceremony (KANSC)
Typically, the Kiltie Band celebrates their hard work at the end of the year with a two hour award ceremony at school.   Due to the pandemic, this large gathering of over 200 students plus their families could not assemble due to restrictions dictated by the County.   In typical fashion, the Kiltie Band staff couldn't allow the graduating seniors to disband without doing something special for each of them.   
On Friday, May 29, 2020, the three band directors of the Riverview High School Kiltie Band hand delivered a special gift to all 39 graduating seniors at their homes.   Andy Dubbert (Director of Bands), Norm Vagn (Associate Director), and Chuck Evans (Associate Director) hooked up the band trailer and drove all over Sarasota!   They wanted to personally congratulate each senior and hand them their gifts ~ including a framed, customized poster for each student with photos of the entire band and a piece of the Kiltie tartan attached.   A special guest, Mr. Spreen (retired RHS Kiltie Band Director of 24 years), made a special appearance to personally present the Mark D. Screen Award to our outstanding Kiltie, trumpeter Justin Korwin.  
The Senior Gift Delivery Tour started at Riverview High School at 9 AM and ended at approximately 5 PM.  The staff then presented a special live award ceremony (with no audience) at 6 PM that was broadcast over the Internet so that all the Kiltie families could participate in the ceremony virtually from home.  To watch the virtual ceremony (again), click here.  
Many thanks to Pine Shores Presbyterian Church for allowing us to use their facilities and equipment for the production of this event, and to Vince Vance (Kiltie Alumni, Class of 1975) for producing the event.    If any senior would like to share a photo of themself with the staff and/or with their gift to be displayed below, please send it to KiltieSenior@gmail.com.   
Congratulations to all the Kilties and the Class of 2020!   The Best Band in the Land.