Each member of the band wears a unique uniform that pays homage to Sarasota's Scottish history.  A group of mostly Scottish settlers arrived late December, 1885, to establish what is now the City of Sarasota.  The MacDonald dress, adopted from the clan background of some of these settlers, is a tartan selected for the band's kilt.  The British bright royal scarlet was selected as the traditional battle jacket, the same worn by current and traditional Scottish regiments. 
The RHS Kiltie uniforms are in a Scottish military style which includes crimson battle jackets and Dress MacDonald tartan kilts. The kilts are hand-made by Scotclans in Edinburgh, Scotland. Each kilt is hand-sewn and signed by the kilt-maker. In order to maintain color continuity, the kilts and stoles (tartan scarves) are made from a 200 meter batch of fabric which was woven especially for the Kiltie Band by LochCarron Mills in Selkirk, Scotland.   This video shows how Riverview High School in Sarasota, Florida, decided to use kilts as their band uniform; this video shows a guided tour of the kiltmakers in the mill while fabricating our band's iconic kilts.
Here is a photo with the name of each part of the RHS Kiltie uniform: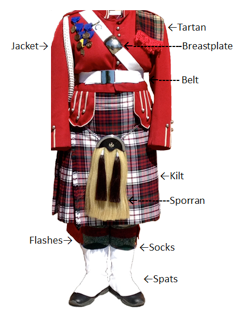 The initial Kiltie Band totaled only 58 members in 1960; in 2016, the total rose to 213 and continues to have over 200 students participate each year.    The first band trip took place at the Orange Bowl Parade in December, 1961.  From that time on, the band has played festivals and parades all over the United States and in several foreign countries, including:  Ireland, Scotland, England, and Germany.  The Kilties even got into acting!  In December, 1993, the band was filmed in a Christmas parade scene for the French movie, "Seven Sundays".
Do you want to know how to measure yourself for a kilt?   Watch this video taken in Scotland of our kilt fabricators, ScotClans in Edinbur.
The award-winning Riverview High School Kiltie Band in Sarasota, FL, honoring their community's Scottish heritage, is receiving new, hand-made kilts created by two traditional Scottish manufacturers. 
The Dress MacDonald tartan fabric was woven by LochCarron of Scotland mills in Selkirk, Scotland, and was hand-sewn into the uniforms worn by the more than 200-member band by ScotClans in Edinburgh.  Each hand-stitched item of clothing is autographed by the kilt-maker who produced it. 
The process began in 2016 under former Band Director Mark Spreen (RHS Kiltie Class of 1978) and has continued under his successor, Andrew Dubbert, with the help of Kiltie Band Booster Vince A. Vance (RHS Kiltie Class of 1975).  Below is a photograph of Vince Vance with one of the kiltmakers, Tierney, from ScotClans. The first set of 15 kilts, received in late 2018, was produced from more than 200 meters of the custom tartan fabric. Additional kilts and sashes will be ordered over the next several years and will all be made from the same original bolt of fabric to be sure that each future kilt will be produced with identical colors and patterns. 
The Kiltie Band, which chose traditional Scottish military dress for its uniforms to pay tribute to Sarasota's history when the band was formed in 1958, received its 60th consecutive "Superior" rating (the highest award) in November, 2018, at the annual Florida Bandmasters Association Marching Performance Assessment. The band also continues to receive top marks at concert festivals and competitions around the country.  It has marched in:  the Macy's Thanksgiving Day Parade in New York City, the Rose Bowl Parade in Pasadena, Calif., Thanksgiving Day parades in Philadelphia and Chicago, the St. Patrick's Day Parade in New York City, the 75th Anniversary of the bombing of Pearl Harbor in Hawaii, and many others.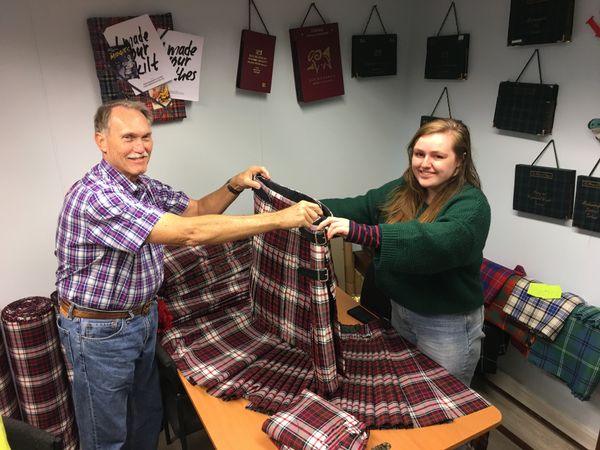 Mr. Mark Spreen, Retired Director of Bands
Mr. Mark Spreen started teaching at Riverview High School in 1993 and was Director of Bands.   He received his Bachelors Degree in Music Education from the University of Florida and his Master of Arts from Grand Canyon University.  Mr. Spreen also completed graduate courses at Florida State University and the University of Miami. 

Mr. Spreen is a past president of the Florida Bandmasters Association and has served as a member of the Board of Directors for the Florida Music Educators Association.  He also served on the board for the Florida School Music Association. Mr. Spreen served as the chairman of the Music Performance Assessment Committee and the Clinics Committee, as well as District Secretary and District Chairman for the Florida Bandmasters Association.

Mr. Spreen is a graduate of Riverview High School and is a former Kiltie.  Prior to returning to Sarasota, he directed the Lake Wales, Keystone Heights, and Fernandina Beach High School bands.  His bands have consistently earned Superior ratings at the FBA festivals.  His bands have performed in many popular events, including: 
the St. Patrick's Day Parade in Dublin, Ireland
the Hollywood Christmas Parade
the National Cherry Blossom Parade in Washington, D.C.
the pre-game and half-time shows at the Sugar Bowl in New Orleans
In November, 2016, Mr. Spreen was inducted into the Florida Bandmasters Association Hall of Fame.   He is a member of the Florida Bandmasters Association, Florida Music Educators Association, Music Education National Conference, and Phi Beta Mu. 
After 24 years of dedicated service to our Sarasota students at Riverview High School, he retired as the Director of Bands and Music Department Chairman in May, 2017.   His dedication to our school and his contribution to the success of our Music Department will be remembered and missed.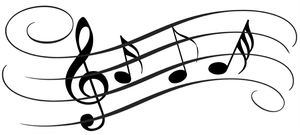 Kiltie Alumni
If you were a Kiltie, you are welcome to have your photo added to this web site.  Simply email your photo with your graduation year to our web site coordinator.   Your photo will be featured in the slideshow to the right.  
Did you know that Kiltie Alumni are welcome to, once again, perform with the RHS Kiltie Band at the homecoming game each year?    Would you like to stay informed about the activities of the Kiltie alumni group? Please sign up to be notified when alumni activities are occurring.   Our Alumni Liaison can answer questions you may have.   

Remember:  "Once a Kiltie, always a Kiltie!"